ISETA (International Seminar on Education, Technology, and Arts) is an annual agenda organized by STKIP PGRI Banjarmasin. ISETA provides a room for academics and scholars to communicate their research findings and exchange ideas through respectful forum.
The dramatically changing life due to the pandemic has forced people all over the globe to adapt to the new normal. ISETA is brought to you to address problems and present practical solutions to overcome challenges in education, technology, and arts in regional, national, and international level. This event encourages trans-national scholars to contribute to the preparation of future work post pandemic through their scientific knowledge. ISETA facilitates multidisciplinary network and partnership needed for the improvement in the quality of life.
For the 1st ISETA (2022) event is held in partnership with reputable keynote speakers from PGRI, Malaya University, Brunei Darussalam University, and STKIP PGRI Banjarmasin. The seminar was attended by more than 500 participants and more than 50 papers were presented. The proceedings published by Lentera: Jurnal Ilmiah Kependidikan.
Current Issue
2022: Lentera Edisi Khusus: ISETA - Tailoring Education for the Future of Work Post Covid-19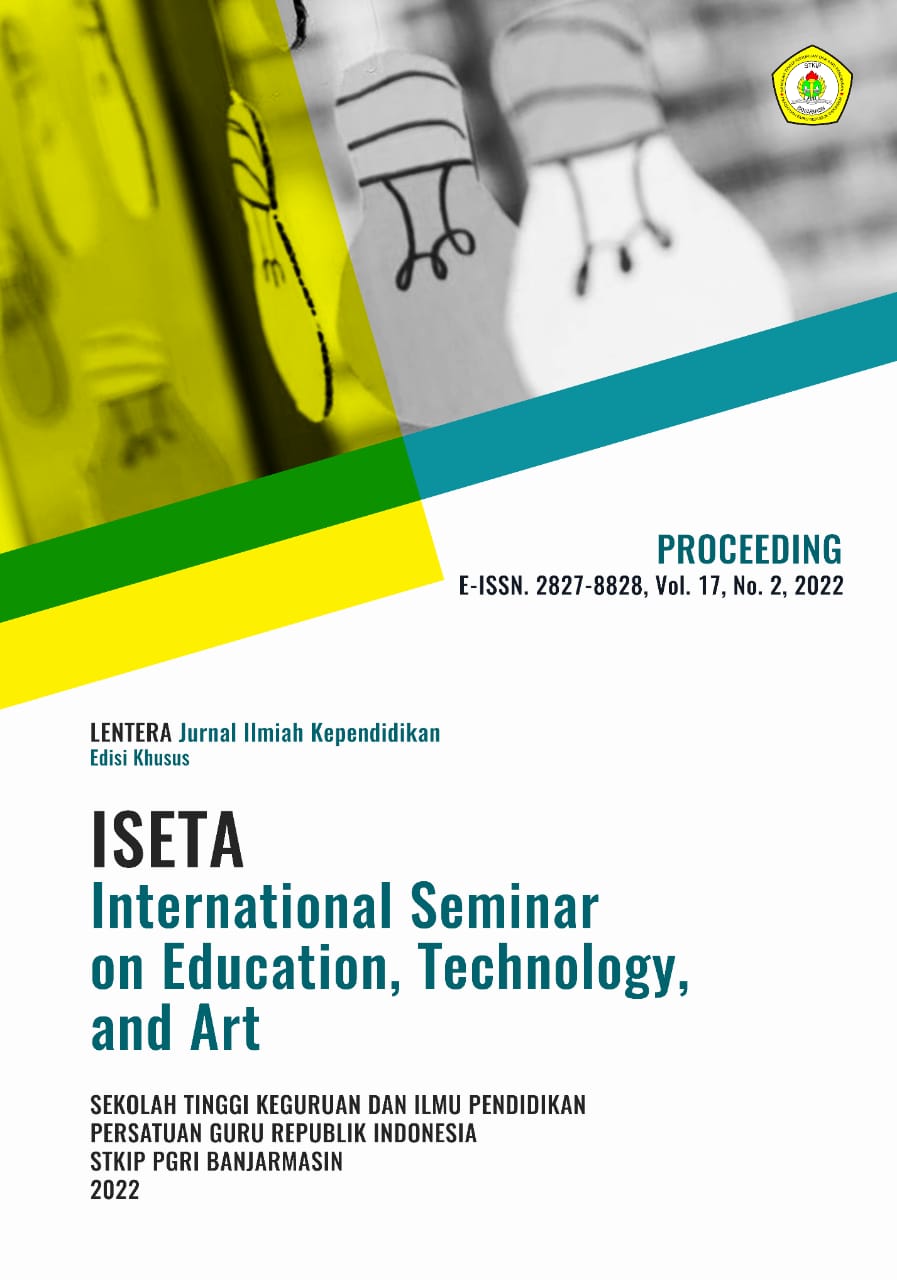 Articles
DOI :

https://doi.org/10.33654/iseta.v1i0.1858


Abstract views: 304 ,

PDF downloads: 328

PDF

DOI :

https://doi.org/10.33654/iseta.v1i0.1699


Abstract views: 445 ,

PDF downloads: 407

PDF

DOI :

https://doi.org/10.33654/iseta.v1i0.1757


Abstract views: 195 ,

PDF downloads: 127

PDF

DOI :

https://doi.org/10.33654/iseta.v1i0.1854


Abstract views: 127 ,

PDF downloads: 96

PDF

DOI :

https://doi.org/10.33654/iseta.v1i0.1850


Abstract views: 88 ,

PDF downloads: 82

PDF

DOI :

https://doi.org/10.33654/iseta.v1i0.1870


Abstract views: 69 ,

PDF downloads: 90

PDF

DOI :

https://doi.org/10.33654/iseta.v1i0.1848


Abstract views: 335 ,

PDF downloads: 151

PDF

DOI :

https://doi.org/10.33654/iseta.v1i0.1847


Abstract views: 81 ,

PDF downloads: 65

PDF

DOI :

https://doi.org/10.33654/iseta.v1i0.1846


Abstract views: 146 ,

PDF downloads: 118

PDF

DOI :

https://doi.org/10.33654/iseta.v1i0.1839


Abstract views: 81 ,

PDF downloads: 70

PDF

DOI :

https://doi.org/10.33654/iseta.v1i0.1836


Abstract views: 77 ,

PDF downloads: 41

PDF

DOI :

https://doi.org/10.33654/iseta.v1i0.1831


Abstract views: 167 ,

PDF downloads: 106

PDF

DOI :

https://doi.org/10.33654/iseta.v1i0.1825


Abstract views: 92 ,

PDF downloads: 64

PDF

DOI :

https://doi.org/10.33654/iseta.v1i0.1822


Abstract views: 134 ,

PDF downloads: 80

PDF

DOI :

https://doi.org/10.33654/iseta.v1i0.1820


Abstract views: 71 ,

PDF downloads: 54

PDF

DOI :

https://doi.org/10.33654/iseta.v1i0.1784


Abstract views: 110 ,

PDF downloads: 65

PDF

DOI :

https://doi.org/10.33654/iseta.v1i0.1788


Abstract views: 363 ,

PDF downloads: 266

PDF

DOI :

https://doi.org/10.33654/iseta.v1i0.1763


Abstract views: 89 ,

PDF downloads: 64

PDF

DOI :

https://doi.org/10.33654/iseta.v1i0.1710


Abstract views: 84 ,

PDF downloads: 90

PDF

DOI :

https://doi.org/10.33654/iseta.v1i0.1709


Abstract views: 115 ,

PDF downloads: 67

PDF

DOI :

https://doi.org/10.33654/iseta.v1i0.1708


Abstract views: 75 ,

PDF downloads: 51

PDF

DOI :

https://doi.org/10.33654/iseta.v1i0.1706


Abstract views: 66 ,

PDF downloads: 40

PDF

DOI :

https://doi.org/10.33654/iseta.v1i0.1695


Abstract views: 176 ,

PDF downloads: 174

PDF

DOI :

https://doi.org/10.33654/iseta.v1i0.1704


Abstract views: 115 ,

PDF downloads: 77

PDF

DOI :

https://doi.org/10.33654/iseta.v1i0.1701


Abstract views: 81 ,

PDF downloads: 70

PDF

DOI :

https://doi.org/10.33654/iseta.v1i0.1700


Abstract views: 123 ,

PDF downloads: 86

PDF

DOI :

https://doi.org/10.33654/iseta.v1i0.1683


Abstract views: 344 ,

PDF downloads: 676

PDF

DOI :

https://doi.org/10.33654/iseta.v1i0.1697


Abstract views: 299 ,

PDF downloads: 245

PDF

DOI :

https://doi.org/10.33654/iseta.v1i0.1685


Abstract views: 127 ,

PDF downloads: 101

PDF

DOI :

https://doi.org/10.33654/iseta.v1i0.1670


Abstract views: 69 ,

PDF downloads: 64

PDF

DOI :

https://doi.org/10.33654/iseta.v1i0.1887


Abstract views: 98 ,

PDF downloads: 56

PDF

DOI :

https://doi.org/10.33654/iseta.v1i0.1886


Abstract views: 74 ,

PDF downloads: 53

PDF
View All Issues