Profil berpikir reflektif siswa dalam menyelesaikan soal tipe-tipe perkalian ditinjau dari perbedaan kemampuan matematika dan gender
Agustina Sukarno Putri

Universitas Kristen Satya Wacana

Helti Lygia Mampouw

Universitas Kristen Satya Wacana
Keywords:
Reflective Thinking, Types of Multiplication, Mathematical Ability, Gender
Abstract
Reflective thinking is concerned with the ability to review, monitor, and monitor the solution process when troubleshooting. This qualitative research aims to describe the reflective thinking ability of junior high school student in solving the problem of scalar multiplication type, array multiplication and combinatorial multiplication based on different ability of math and gender. The subjects consisted of 3 male students and 3 female students of grade VII SMP who each had high, medium  and low math skills. The result show taht male and female students with high math skills have reflective thinking skills for all type of questions. Student with math skills are capable of reflective thinking for scalar multiplication types and reflective enough in combinatorial multiplication types. Male students with low math skills tend to be less reflective on all types of questions and female students have reflective thinking skills on all types have reflective. It was also ound that male students tend to be able to use ilustrations, for example with pictures whereas female students tend to solve problems on a regular basis for example by writing known, questioned, and answered. These results are expected to help teachers and researchers to understand the level of reflective thinking of students on the type of multiplication in terms of differences in mathematical ability and gender.
Downloads
Download data is not yet available.
References
Ahmad. (2011). Artikel Berpikir Reflektif. Diakses pada tanggal 19 Februari 2017 dari http://dahli-ahmad.blogspot.co.id/2011/05/berfikir-reflektif.html

Asmaningtyas. (2012). Kemampuan Matematika Laki-laki dan Perempuan Jurnal UIN Malang. Diakses pada tanggal 29 Januari dari http://ejournal.uinmalang.ac.id/index.php.tarbiyah/article/download/1840/pdf

Azhari. (2017). Kemampuan Berpikir Reflektif dalam Memecahkan Masalah pada Siswa Kelas VII-C MTsN Ngantru Tulungagung. Diakses pada tanggal 8 November 2017 dari http://repo.iain-tulungagung.ac.id/6259/

Cendekiawaty. (2016). Deskripsi Kemampuan Berpikir Reflektif Matematis Siswa SMP Istiqomah Sambas Purbalingga ditinjau dari Gender. Diakses pada tanggal 8 November 2017 dari http://repository.ump.ac.id/1403/3/BAB%20II_TIARA%20CENDEKIAWATY_MATEMATIKA%2716.pdf

Fascual, Ferrari. Developmental Relations among Mind, Brain and Education 265-270.

Ismail. (2013). Teori Berpikir Reflektif John Dewey. Diakses pada tanggal 19 Februari 2017 dari http://gumilarismail.blogspot.co.id/2013/11/teori-berpikir-reflektif-john-dewey.html

Mahmudi, Ali (2008). Pembelajaran Problem Posing untuk Meningkatkan Kemampuan Pemecahan Masalah Matematika.

Nafi'an, M.I (2011). Kemampuan siswa dalam menyelesaikan soal cerita ditinjau dari gender di sekolah dasar. Seminar Nasional Matematika dan Pendidikan Matematika FMIPA UNY, P(53), 573-574

Rita. (2010). Penerapan Model Pembelajaran Problem Solving. Diakses tanggal 15 Maret 2017 dari http://s3.amazonams.com/academia.edu.documents.html.

Santrock, J.W (2011). Remaja Edisi 1, 227-235

Suharna, Heri (2012). Berpikir reflektif (reflektive thinking) siswa SD berkemampuan matematika tinggi dalam pemahaman masalah pecahan. Seminar Nasional Matematika dan Pendidikan Matematika FMIPA UNY, P(41), 376-386.

Surbeck, E., Han, E. P., & Moyer, J. (1991). "Assessing reflective responses in journals". Educational Leadership 48, pp. 25-27.

Wahyuni. (2012). Artikel Pemecahan Masalah. Diakses tanggal 15 Maret 2017 dari http://mahasiswa.mipastkippllg.com/repository/artikel

Widjajanti. (2009). Kemampuan Pemecahan Masalah Matematis Mahasiswa Calon Guru Matematika:APA dan BAGAIMANA MENGEMBANGKANNYA. Diakses pada tanggal 20 Maret 2017 dari hhtp://core.ac.uk/download/pdf/11064623.pdf.html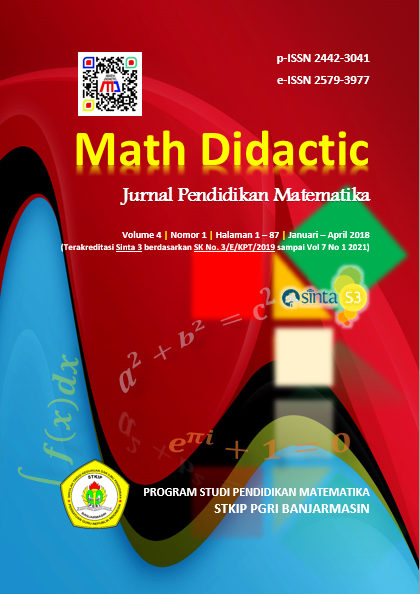 How to Cite
Putri, A. S., & Mampouw, H. L. (2018). Profil berpikir reflektif siswa dalam menyelesaikan soal tipe-tipe perkalian ditinjau dari perbedaan kemampuan matematika dan gender. Math Didactic: Jurnal Pendidikan Matematika, 4(1), 34-46. https://doi.org/10.33654/math.v4i1.81

This work is licensed under a Creative Commons Attribution-ShareAlike 4.0 International License.
Copyright by Author(s)

Abstract viewed = 383 times PDF (Bahasa Indonesia) downloaded = 365 times