Kecemasan dan kemampuan siswa dalam memecahkan masalah matematika
Fahriza Noor

STKIP PGRI Banjarmasin
Keywords:
Kecemasan, Kemampuan, Pemecahan Masalah, Matematika
Abstract
Tujuan dalam penelitian ini adalah untuk mengetahui  tingkat kecemasan matematika siswa, kemampuan siswa dalam memecahkan masalah matematika, serta hubungan antara kecemasan dan kemampuan siswa dalam memecahkan masalah matematika. Metode penelitian yang digunakan adalah penelitian kuantitatif. Populasi dalam penelitian ini adalah siswa kelas VI SDN Kebun Bunga 4 Banjarmasin, sedangkan sampel yang terambil adalah siswa kelas VIA. Hasil penelitian mengindikasikan bahwa (1) tingkat kecemasan siswa tergolong kurang cemas; (2) kemampuan siswa dalam memecahkan masalah matematika tergolong sangat tinggi; dan (3) terdapat hubungan antara kecemasan dengan kemampuan siswa dalam memecahkan masalah matematika.
Downloads
Download data is not yet available.
References
Arem, C.A. (2009). Conquering Math Anxiety: 3rd edition. USA: Chengage Learning.

Ashcraft, M. H. (2002). Math Anxiety: Personal, Educational, and Cognitive Consecuence. Sage Journal, Volume 11(5): 181-185.

Cavanagh, Rob & Sparrow Len. (2011). Mathematics Anxiety: Scaffolding A New Construct Model. AAMT-MERGA 2011 Conference, Jul 3, Alice Springs: AAMT/MERGA.

Chewning, S. (2002). Overcoming Math Anxiety. Germanna Community Collage.

Hoffman, Bobby. (2010). I think I can, but I'm Afraid to Try: The Role of Self Efficacy beliefs and mathematics anxiety in mathematics problem solving efficiency. Learning and Individual Difference, 20 (3): 276-283.

Joseph & Yeo. (2010). Do High Ability Students Have Mathematics Anxiety. Journal of Science and Mathematics Education In S.E. Asia, 27 (2) , 135-152.

Maisaroh, Ekka Nur & Falah, Falasifatul. (2011). Hubungan Antara Religiusitas Dengan Kecemasan Menghadapi Ujian Nasional. Proyeksi, Volume 6(2): 77-88.

Mohamed, S.H & Tarmizi, R.A. (2010). Anxiety in Mathematics Learning Among secondary school learners: A Comparatif Study between Tanzania and Malaysia, Procedia Social and Behavioral Sciences, 8: 498-504.

Mourtos, N.J., Okomoto, Dejong N., Rhee, J. (2004). Defining, teaching and assesing problem solving skill, 7th UICEE Annual Conference on Engineering Education 2004 UICEE Mumbai, India, 9-13 February, 1-5.

Muhsetyo, G. (2007). Pembelajaran Matematika SD. Jakarta: Universitas Terbuka.

Mullis, Ina V.S., Martin, Michel O., Pierre & Arora, Alka. (2012). TIMSS 2011 Internasional Mathematics Report: Finding From IEA'S Trend in Internasional Mathematics and Science Study at the Fourth and Eight Grades. United States: Internasiona Association for The Evaluation of Educational Achievement.

Musser, Gary L., Burger, William F. & Peterson, Blake E. (2008). Mathematics for Elementary Teacher 8th Edition. USA: John Wiles & Sons Inc.

Polya, G. (1973). How to Solve It: A New Aspect of Mathematical Method. New Jersey: Princeton University Press.
The Organisation for Economic Co-operation and Development. 2014. PISA 2012 Results in Focus: What 15-Year-Olds Know and What They Can Do with What They Know.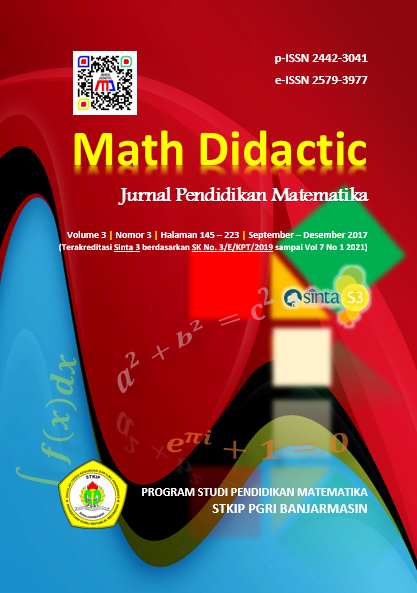 How to Cite
Noor, F. (2017). Kecemasan dan kemampuan siswa dalam memecahkan masalah matematika. Math Didactic: Jurnal Pendidikan Matematika, 3(3), 169-177. https://doi.org/10.33654/math.v3i3.69

This work is licensed under a Creative Commons Attribution-ShareAlike 4.0 International License.
Copyright by Author(s)

Abstract viewed = 396 times PDF downloaded = 360 times