Implementasi project based learning untuk meningkatkan kemandirian dan prestasi belajar mahasiswa dalam pembuatan alat peraga matematika inovatif
Ratih Puspasari

STKIP PGRI Tulungagung
Keywords:
Alat Peraga, Project-Based Learning (PjBL), Kemandirian, Prestasi Belajar
Abstract
Penelitian ini bertujuan untuk meningkatkan kemandirian dan prestasi belajar mahasiswa dalam pembuatan alat peraga Matematika di sekolah menengah melalui pembelajaran Project Based Learning. Subyek penelitian adalah mahasiswa STKIP PGRI Tulungagung semester IV Program Studi Pendidikan Matematika tahun 2015/2016 sebanyak 40 orang dan terbagi dalam 7 kelompok. Desain penelitian yang digunakan adalah PTK dengan acuan model Kemmis dan Mc Taggart dan dilaksanakan 2 siklus. Pengambilan data dilakukan dengan pretest, lembar penilaian desain alat peraga, lembar pengamatan kerja sama, lembar penilaian psikomotorik dan lembar penilaian alat peraga. Data analisis deskriptif. Hasil dari siklus 1 disarankan ada perbaikan dalam proses pembelajaran. Pada siklus 2 dengan kelompok yang sama dilakukan analisis penilaian dengan hasil penelitian, yaitu : 1 kelompok memiliki kemampuan sangat baik dalam mendesain alat peraga, ada 4 kelompok baik dan 2 kelompok cukup baik. Pada penilaian psikomotorik telah menunjukkan 3 kelompok dengan kriteria penugasan sangat baik dan 3 kelompok baik dan 1 kelompok cukup baik. Sedangkan penilaian pada aspek kerja sama kelompok menunjukkan 1 kelompok sangat baik, 3 kelompok baik dan 3 kelompok cukup baik. Berdasarkan hasil penilaian tersebut maka Project Based Learning (PjBL) mampu meningkatkan kemandirian dan prestasi belajar mahasiswa dalam kelompok untuk membuat alat peraga dengan hasil pemikiran sendiri maupun dari alat peraga yang sudah ada.
Downloads
Download data is not yet available.
References
A Saefullah, P. Siahaan, I M Sari. (2013). Hubungan antara sikap kemandirian belajar dan prestasi belajar siswa kelas X pada pembelajaran fisika berbasis portofolio. Jurnal Wahana Pendidikan Fisika 1 (2013) 26-36. ISSN: 2338-1027.

Asan, A dan Haliloglu, Z. (2005). Implementing Project Based Learning In Computer Classroom. The Turkish Online Journal of Educational Technology – TOJET, volume 4 Issue 3. Diakses 15 April 2017 dari http://www.tojet.net/articles/v4i3/4310.pdf.

Hargis, J (2000) The Self-Regulated Learner Advantage: Learning Science on the Internet. Diakses tanggal 14 April 2017 dari https://translate.google.com/translate?hl=id&sl=en&u=http://ejse.southwestern.edu/article/view/7637/5404&prev=search.

Koch, Chlosta. S, & Klandt. H. (2006). Project Seminar Business Plan Development-An Analysis Of Integrative Project-Based Project-Based Entrepreneurship Education. Journal of Asia Entrepreneurship and Sustainability. Volume II (2). May. Page 1-16. Diakses tanggal 14 April 2017 dari www.asiaentrepreneurshipjournal.com/AJESII2Johann.pdf.

Lasonen, Johanna, Vesterinen, & Pirkko. (2000). Finland Work-Based Learning in Vocational Higher Education Programmes: A Finish Case of Project Learning. Paper Presentation. Institut for Educational Research University of Jyvakyla. Page 3-18. Diakses tanggal 14 April 2017 dari https://eric.ed.gov/?id=ED448275.

Mujiman, H. (2007). Manajemen Pelatihan Berbasis Belajar Mandiri. Yogyakarta: Mitra Cendekia.

Sumarmo, U. (2004). Pengembangan Berpikir Matematik Tingkat Tinggi pada Siswa SLTP dan SMU serta Mahasiswa Strata Satu (S1) melalui berbagai Pendekatan Pembelajaran. Bandung, Laporan Penelitian Pascasarjana UPI. Bandung : Tidak Dipublikasikan.

Sunaryo,Soenarto. (2005). Pembelajaran berbasis proyek dan pembelajaran berbasis masalah. Makalah, Pelatihan Model Pembelajaran KBK yang diselenggarakan oleh P3AI UNY.

Turgut, Halil. (2008). Prospective Science Teachers' Conceptualizations About Project Based Learning. International Journal of Instruction. Volume I. No. 1. 61-79.

Winkel, W.S. (2007). Psikologi Pengajaran. Yogyakarta : Media Abadi.

Wongsri,N., Cantwell, R.H., Archer, J. (2002). The Validation of Measures of Self-Efficacy, Motivation and self-Regulated Learning among Thai tertiary Students. Paper presented at the Annual Conference of the Australian Association for Research in Education, Brisbane, December 2002.

Yamin, Martinis, H. (2010). Desain Pembelajaran Berbasis Tingkat Satuan Pendidikan. Jakarta: Gaung Persada Press Jakarta.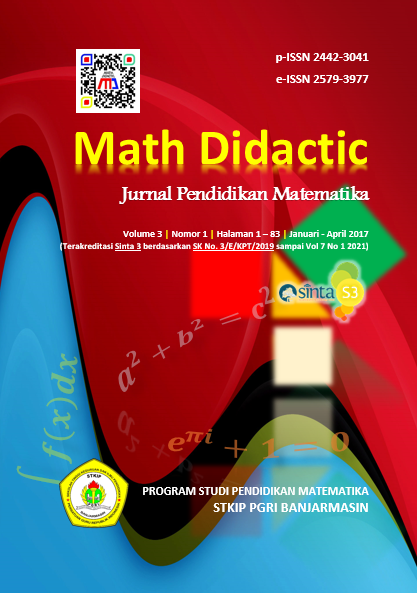 How to Cite
Puspasari, R. (2018). Implementasi project based learning untuk meningkatkan kemandirian dan prestasi belajar mahasiswa dalam pembuatan alat peraga matematika inovatif. Math Didactic: Jurnal Pendidikan Matematika, 3(1), 10-22. https://doi.org/10.33654/math.v3i1.51

This work is licensed under a Creative Commons Attribution-ShareAlike 4.0 International License.
Copyright by Author(s)

Abstract viewed = 485 times PDF downloaded = 383 times