Pengembangan e-modul kalkulus berbasis Geogebra dengan dukungan website Moodle
The development of Geogebra-based calculus e-modul assisted by Moodle website
Mohammad Rifa'i

Universitas Qomaruddin Gresik

Roisatun Nisa'

Universitas Qomaruddin Gresik
Keywords:
e-module, calculus, Geogebra, Moodle, level of feasibility
Abstract
This research discusses the development of geogebraic calculus-based e-modules using the support of Moodle website. This study aims to determine the feasibility level (quality) of e-modules from experts and also to determine the response of users (students) to the e-module calculus that was developed. The research methods used in this case include: planning (needs analysis), design, development, validation, and implementation (application). The data collection technique is done by using a validation sheet as an instrument to assess the feasibility (quality) of e-modules by media experts and material experts. In addition, the response questionnaire sheet is used to view responses from e-module users. The results obtained showed that the validation score of the media expert was 34 or included in the excellent category, with the percentage of overall ideals being 85.00%. Then, the validation score of the material expert is 49 or is in the very good category, with the percentage of overall ideals being 87.50%. While the results of trials on 20 students obtained a very positive response with a percentage of 90 %.
Downloads
Download data is not yet available.
References
Arifin, Z. (2012). Evaluasi Pembelajaran: Prinsip, Teknik, Prosedur. Bandung: Remaja Rosdakarya.
Ernawati, I. (2017). Uji Kelayakan Media Pembelajaran Interaktif Pada Mata Pelajaran Administrasi Server. Elinvo (Electronics, Informatics, and Vocational Education), 2(2), 204. https://doi.org/10.21831/elinvo.v2i2.17315
Haryati, S. (2012). Research and Development (R&D) Sebagai Salah Satu Model Penelitian dalam Bidang Pendidikan. Research And Development (R&D) Sebagai Salah Satu Model Penelitian Dalam Bidang Pendidikan, 37(1), 11–26.
Hohenwarter, M., & Fuchs, K. (2005). Combination of dynamic geometry , algebra and calculus in the software system GeoGebra. Computer Algebra Systems and Dynamic Geometry Systems in Mathematics Teaching Conference 2004, 2002(July), 1–6. Retrieved from http://www.geogebratube.org/material/show/id/747
Kreano, J. (2012). Desain Model Pengembangan Perangkat Pembelajaran Matematika. Kreano: Jurnal Matematika Kreatif-Inovatif, 3(1), 59–72. https://doi.org/10.15294/kreano.v3i1.2613
Made, N., & Mertasari, S. (2010). Modul Web Dengan Pola Insentif Untuk Meningkatkan Kemampuan Memahami Materi Berbahasa Inggris (Vol. 43). Retrieved from http://ejournal.undiksha.ac.id/index.php/JPP/article/viewFile/128/122
Muazizah, N. M., Nurhayati, S., & Cahyono, E. (2017). Keefektifan Penggunaan E-Learning Berbasis Moodle berpendekatan Guided Inquiry Terhadap Hasil Belajar siswa. Jurnal Inovasi Pendidikan Kimia, 10(2), 1760–1768.
Nurita, T. (2018). Kata Kunci : Media Pembelajaran dan Hasil Belajar Siswa. Misykat, 03(1), 171–187. Retrieved from https://media.neliti.com/media/publications/271164-pengembangan-media-pembelajaran-untuk-me-b2104bd7.pdf
Rifa'i, M. (2019). Pengembangan Media Pembelajaran Kalkulus Berbasis Web Moodle Pada Mahasiswa STKIP Qomaruddin Gresik. APOTEMA , 27-32.
Suarsana, I. M., & Mahayukti, G. A. (2013). Pengembangan E-Modul Berorientasi Pemecahan Masalah Untuk Meningkatkan Keterampilan Berpikir Kritis Mahasiswa. Jurnal Nasional Pendidikan Teknik Informatika (JANAPATI), 2(3), 193. https://doi.org/10.23887/janapati.v2i3.9800
Sunismi, S., & Fathani, A. H. (2017). Prototipe Model Collaborative Learning Matematika Melalui Media Blog dengan Interactive Digital Book Mata Kuliah Kalkulus II. Jurnal Fourier, 6(2), 69. https://doi.org/10.14421/fourier.2017.62.69-83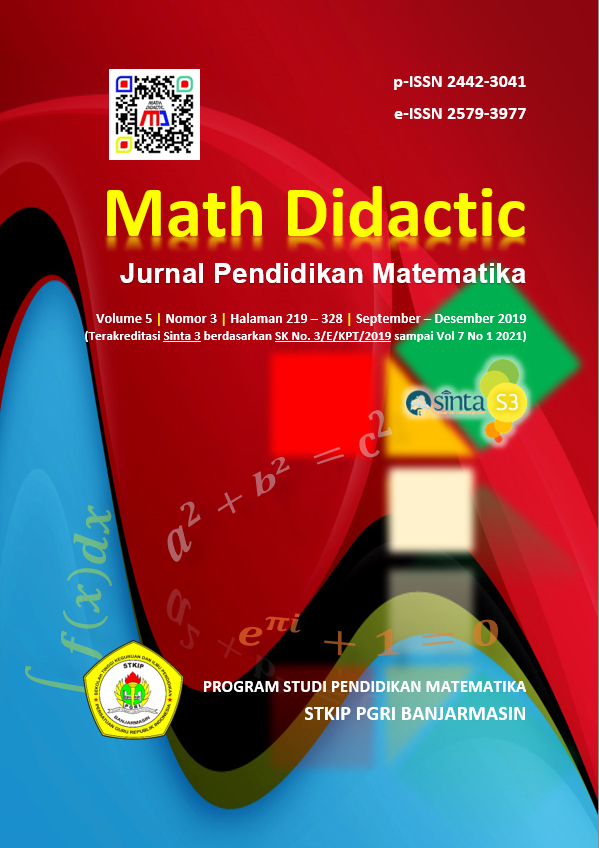 How to Cite
Rifa'i, M., & Nisa', R. (2019). Pengembangan e-modul kalkulus berbasis Geogebra dengan dukungan website Moodle. Math Didactic: Jurnal Pendidikan Matematika, 5(3), 259-268. https://doi.org/10.33654/math.v5i3.780

This work is licensed under a Creative Commons Attribution-ShareAlike 4.0 International License.
Copyright by Author(s)

Abstract viewed = 100 times PDF (Bahasa Indonesia) downloaded = 145 times