Pengaruh kesadaran metakognitif terhadap kinerja dosen
The effect of metacognitive awareness toward lecturer's peformance
Muhamad Galang Isnawan

Universitas Nahdlatul Wathan Mataram
Keywords:
Metacognitive Awareness, Lecturer's Performance
Abstract
The implementation of the Tridharma of Higher Education and the fulfillment of supporting elements is an obligation that must be carried out by lecturers in higher education as a form of reflection of its performance. Many factors influence the performance, one of which is metacognitive awareness. Therefore, the purpose of this study is to describe the effect of metacognitive awareness toward lecturer's performance in universities. This type of research is ex-post facto. The population of this study was all lecturers at the UNW Mataram with a sample of all lecturers at the FKIP UNW Mataram. The sampling technique used is stratified random sampling. Data analysis used is regression analysis (R Square, F test, and t test). Based on the results of the study obtained information that metacognitive awareness influences the performance of lecturers in universities. The value of R Square obtained is 70.7%; F value of 77,177 with a significance of 0,000; and the value of t obtained is 8.785 with a significance of 0,000.
Downloads
Download data is not yet available.
References
Agustin, D., Widowati, H., & Achyani. (2017). Hubungan kesadaran metakognitif dan regulasi metakognitif terhadap kemampuan berpikir kritis mahasiswa pendidikan biologi. Prosiding, Seminar Nasional Pendidikan yang diselenggarakan oleh FKIP Universitas Muhammadiyah Metro, 2017. Metro: Universitas Muhammadiyah Metro.
Christoph, N. (2006). The role of metacognitive skills in learning to solve problems. Wagenigen: SIKS Dissertation Series.
Hacker, D. J., Dunlosky, J., & Graesser, A. C. (2009). Handbook of metacognition in education. New York: Routledge.
Kusumaningtyas, A. and Setyawati, E. (2015). Teacher performance of the state vocational high school teachers in surabaya. IJERE, 4 (2), 76-83.
Schraw, G. & Dennison, R. S. (1994). Assessing metacognitive awareness. Contempory Educational Psychology, 19, 460-475.
Slameto, Sulasmono, B. S., & Wardani, K. W. (2017). Peningkatan kinerja guru melalui pelatihan beserta faktor penentunya. Jurnal Pendidikan Ilmu Sosial, 27 (2), 38-47.
Susanto, H. (2012). Faktor-faktor yang mempengaruhi kinerja guru sekolah menengah kejuruan. Jurnal Pendidikan Vokasi, 2 (2), 197-212.
Wells, A. (2009). Metacognitive therapy for anxiety and depression. New York, NY: the Guildford Press.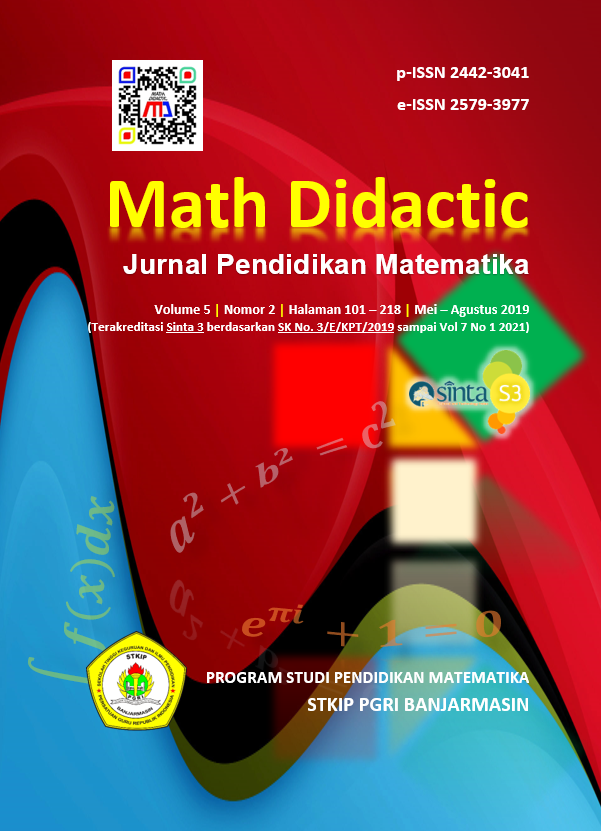 How to Cite
Isnawan, M. G. (2019). Pengaruh kesadaran metakognitif terhadap kinerja dosen. Math Didactic: Jurnal Pendidikan Matematika, 5(2), 101-109. https://doi.org/10.33654/math.v5i2.520
Copyright (c) 2019 Muhamad Galang Isnawan
This work is licensed under a Creative Commons Attribution-ShareAlike 4.0 International License.

This work is licensed under a Creative Commons Attribution-ShareAlike 4.0 International License.
Copyright by Author(s)

Abstract viewed = 96 times PDF (Bahasa Indonesia) downloaded = 99 times